I am still awaiting my copy, but I wanted to get this out there for release day, January 3rd! My review will come later! :)
From Jocelyn Green's blog:
The Mark of the King
"The Mark of the King grabbed me from the first scene and wouldn't let me go! The setting is vibrant, unique, and full of fascinating true details about the early French settlement in New Orleans. With arranged marriages, forced immigration, and struggles against starvation, the elements, and warring natives, the story is riveting. A must-read!"
~Jody Hedlund, Christy Award-winning author
"A page-turner of a tale set against France's early struggles to colonize Louisiana,
The Mark of the King
bears all the marks of the best historical fiction—rich attention to detail, settings historically accurate and lushly depicted, a complex and layered plot, diverse cultures vividly portrayed, and the ever-present sense of the larger forces of time and place shaping the lives and destinies of characters I came to care about. The unjustly exiled Julianne is a woman to admire and cheer, the soldier Marc-Paul a man of strength and devotion. Lovers of historical fiction will be transported by this beautifully written novel of the early 18
th
century frontier."
~Lori Benton, award-winning author of The Wood's Edge and A Flight of Arrows
After being imprisoned and branded for the death of her client, twenty-five-year-old midwife Julianne Chevalier trades her life sentence for exile to the fledgling 1720s French colony of Louisiana, where she hopes to be reunited with her brother, serving there as a soldier. To make the journey, though, women must be married, and Julianne is forced to wed a fellow convict.
When they arrive in New Orleans, there is no news of Benjamin, Julianne's brother, and searching for answers proves dangerous. What is behind the mystery, and does military officer Marc-Paul Girard know more than he is letting on?
With her dreams of a new life shattered, Julianne must find her way in this dangerous, rugged land, despite never being able to escape the king's mark on her shoulder that brands her a criminal beyond redemption.
Free Excerpt
about Jocelyn Green:
Award-winning author Jocelyn Green inspires faith and courage in her readers through both fiction and nonfiction. A former military wife herself, she offers encouragement and hope to military wives worldwide through her Faith Deployed ministry. Her novels, inspired by real heroines on America's home front, are marked by their historical integrity and gritty inspiration. Jocelyn graduated from Taylor University in Upland, Indiana, with a B.A. in English, concentration in writing. She is an active member of the Christian Authors Network, Advanced Writers and Speakers Association, American Christian Fiction Writers, and the Military Writers Society of America. She loves Mexican food, Broadway musicals, Toblerone chocolate bars, the color red, and reading on her patio. Jocelyn lives with her husband Rob and two small children in Cedar Falls, Iowa. Connect with her on
Facebook
. [Looking for the Media Kit?
It's right here
.]
Okay, that was my official bio. Now, here's a little more. . .
If it weren't for God's presence in my life, I would not be able to inspire faith and courage in others. He is my inspiration, my strength, my joy.
My favorite verse is Isaiah 26:3. And also Psalm 30:5. Oh wait, Psalm 34:18 is another great one . . . I'll stop now.
I'm an ordinary mom. I make lunches, wipe noses, play Chutes & Ladders, read bedtime stories, dispense band-aids, and give lots of hugs and kisses to my kids while they'll still let me.
I fall behind in my household chores from time to time, especially when on deadline. I keep up with laundry pretty well, but my mop doesn't see any action, for instance, while I write a book.
We love traditions in this house. Among our favorites: having pizza and Family Movie Night on Fridays, watching Rick Steves on Saturday mornings, spaghetti dinner (made by my husband) on Sundays.
I do my best writing wearing pants with elastic waistbands. I call these "writing pants." My favorite pair is summer pajama bottoms from L.L. Bean.
I'm an introvert but enjoy public speaking. Weird, right?
I'm really big on list-making. I think it's hereditary, because my 6-year-old seems to have inherited the gene as well. Evidence at right.
I tend to either cook 30 meals in a day or go for three months without cooking more than twice a week (and therefore using the 30 meals I had prepared ahead of time). It works out nicely. Although sometimes I wish I was one of those people who cooked and baked super good stuff for fun.
I'm not very crafty. I'll just say it. I really admire those who are, though.
Thanks so much for stopping by. This feels a little weird talking so much about myself, but that's what this page is all about. I'd much rather connect with you in a way that's not so one-sided, though, so please, connect with me through my blog, the contact page, or my
Facebook
page. I'd love to hear from you. :)
The Give-Away
To celebrate the release of The Mark of the King, I am giving away to one lucky winner a gift basket from Cafe de Monde in New Orleans (two mugs, coffee and beignet mix), a set of French soaps, and a pair of silver fleur-de-lys earrings!
Please use this Rafflecopter form to enter. The drawing opens early the morning of Monday, Jan. 2. Good luck!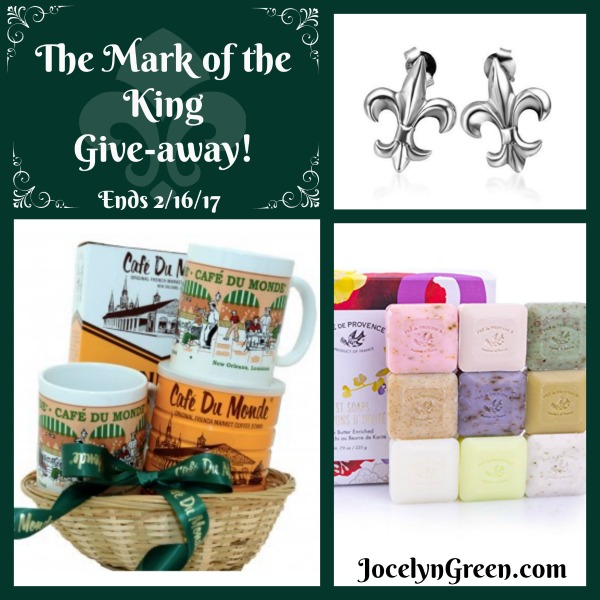 http://www.jocelyngreen.com/2016/12/26/the-mark-of-the-king-free-excerpt-give-away